All About Avalanche Pizza
Our Values
We answer to our shareholders. Our shareholders are every customer that will purchase our product.
We promise to provide the community with the best and freshest product at the best value around! We have clean, bright stores, friendly service and a neighborhood business that truly has the local interest in mind. We have committed ourselves to being an integral part of the local community and economy, using local ingredients when possible and applying ourselves to education, support of nutritional activities and most importantly, FUN!
Avalanche Pizza Mission Statement
Our mission is to establish Avalanche Pizza as the premier purveyor of excellent pizza products in the world. The following guiding principles will help us measure the appropriateness of our decisions:
* Provide a great work environment and treat each other with dignity and respect.
* Apply the highest culinary standards of excellence to every pizza product that we make.
* Contribute positively to the community and our environment.
* Develop enthusiastically satisfied customers all of the time.
* Recognize that profitability is essential to our future success.
* Apply the highest standards of safety in everything we do and produce.
Successful History
"The difference between a successful person and others is not the lack strength, not a lack of knowledge, but rather a lack of will" – Vince Lombardi
We started our business with one mission in mind – to give the community the best pizza at the best price. We have since gone on to win the following awards for our efforts. We want to continue to raise the bar and bring pizza back from the culinary backwater that the corporate chains have pushed it into. We know that YOU CAN HAVE IT ALL! The best pizza AND the best prices!
Check out the awards we have won!
First Place, Gourmet
Mid America International Pizza Expo
Las Vegas 2011
Winner Best Gourmet Pizza
Mid America Region, International Pizza Expo
Las Vegas 2010
First Place
USA World Pizza Championships
Salsomaggiore Italy, 2009
First place – Gourmet Category
North American Pizza Competition
Columbus Ohio, 2006
First Place Finalist
U.S.A. Heinz Beck Competition
Italy, 2009
Sustainability Award
for a cleaner earth 2005
Best Pizza in the United States of America
World Pizza Championships
Salsamaggiore Italy, 2004
Winner!
Vegetarian Category, International Pizza Expo
Pizza Festiva Competition,
Las Vegas 2004
Winner!
First Place, Gourmet Category,
North American Pizza Competition,
Columbus Ohio, 2004
Winner!
Second Place, Gourmet Category,
North American Pizza Competition,
Columbus Ohio, 2004
Winner!
Third Place, Gourmet Category,
North American Pizza Competition,
Columbus Ohio 2003
Voted Best Pizza NINE Years Running!
2001 to 2009
Athens Ohio News Readers Choice Award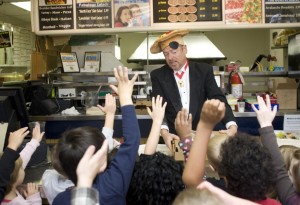 Our Company
"You gotta be first, best, or different." – Loretta Lynn
"Blame no one, expect nothing, do something." – Bill Parcells
Our company is only as good as each and every associate that works here. We take great care in hiring the right people for the job. Our associates are the best of the best. They are trained with our standards program and undergo Navy Seal Training. Two weekends out of the year they undergo Marine Corps training at Camp Lejeune, North Carolina.
Seriously folks, you have to be good to work at Avalanche Pizza! We do more than 300,000 pizzas a year in one store – and that's just pizza! We focus our standards on cleanliness, customer service and culinary acumen. We are not a chain and have total disdain for the corporate entities that would rather tell local consumers what is good for them instead of giving them value, choice and quality up front!
We are the little guy and our customers are little guys! Little guys rule baby!!! Viva la Avalanche Pizza Revolution!!