Our Pizza
Our Three Pizza Deal is what put Avalanche on the map!
Give us a call and create three of your own gourmet pizzas for one low price.
Prices subject to change.
| | | |
| --- | --- | --- |
| | 10″ Pizza – 6 Slices | 14″ Pizza – 10 Slices |
| One Topping | $16.99 for 3 Pizzas! | $22.99 for 3 Pizzas! |
| Two Topping | $18.99 for 3 Pizzas! | $24.99 for 3 Pizzas! |
| Three Toppings | $20.99 for 3 Pizzas! | $26.99 for 3 Pizzas! |
| Four Toppings | $21.99 for 3 Pizzas! | $27.99 for 3 Pizzas! |
| Five Toppings | $22.99 for 3 Pizzas! | $28.99 for 3 Pizzas! |
Over 50 Fabulous Pizza Toppings
Chorizo (New)*+, Fries, Canned Mushrooms, Venetian Thin Crust*, Vegan Cheese*, King Farm's Sausage (our Italian sausage)+, Spelt Crust*, Artichoke Hearts, Roasted Garlic, Alfredo Sauce*, Fresh Baby Spinach, Roasted Chicken+, Extra Sauce, Parmesan Cheese, Black Olives, Red Onions, BBQ Sauce, Ranch Dressing, Ninja Sauce, Roasted Potatoes, Mandarin Oranges, Korean Kimchi, Cashews+, Teriyaki Sauce, Shrimp+, Genoa Salami, Sweet Yellow Corn, Italian Meatballs, Gorgonzola Cheese, Asiago Cheese+, Extra Cheese+, Cheddar Cheese, Pineapple, Rib-eye Steak+, Premium Bacon+, Fresh Mushrooms, Green Peppers, Blanched Spinach, Premium Ham, Roma Tomatoes, Anchovies, Green Olives, Ground Beef, Feta Cheese+, Zucchini, Sun Dried Tomato+, Jalapeno Peppers, Banana Peppers, Pepperoni, Broccoli, Roasted Red Peppers, Pesto, Ricotta, Fresh Basil*+,
Consult the Avalanche Topping Dictionary!
* Not available with our 3 Pizza Deal.
+ These are our Premium toppings and will have a higher charge per topping when ordered.
Signature Pies
All Signature Creations are loaded with double the toppings of our normal pies!
Hope you're hungry! If not, you will be by the time you finish reading this!
Please Note! For Signature Pies:  No substitutions, extra charge for added toppings, and there is a small delivery fee.
Please don't eat your screen…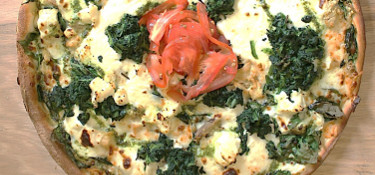 Chicken Florentine
Asiago Cream sauce, with Fresh and Blanched Spinach, local King Family Farms Chicken, Ricotta Cheese, and Basil Pesto.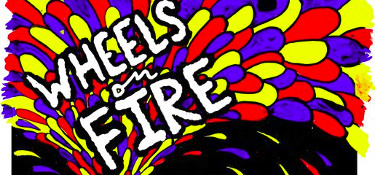 The Wheels on Fire
Our fabulous hand-tossed crust, with savory Gorgonzola cream sauce, bake with fresh-sliced Red Onion and King Family Farms Chicken that is gently coated with our spicy Ninja Sauce. After the oven we apply spokes of Creamy Ranch Dressing and shaved Celery with a garnish of Roasted Red Pepper in the middle.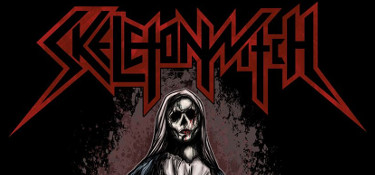 The Skeletonwitch
Our Venetian Thin Crust, topped with our Secret Marinara Sauce, a Half pound of our our Mozzarella/Provolone blend and Asiago cheese, Genoa Salami, Classically spiced Pepperoni, Dollops of creamy Ricotta Cheese, sweet Pineapple chunks and finished with swirls of our Spicy Ninja sauce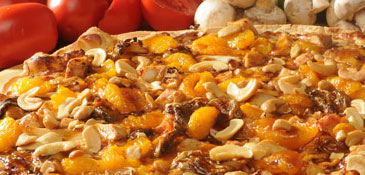 Crouching Kimchi, Hidden Chicken
"Our Asian Delight!"
Our Delicious Marinara, a Half-Pound of Melting Mozzarella and Provolone, Fresh Roasted Chicken, Crunchy Cashews, Real Korean Kimchi (Spicy Pickled Cabbage), and Sweet Mandarin Oranges complimented by the fabulous Salty-Sweet taste of Traditional Japanese Teriyaki Sauce.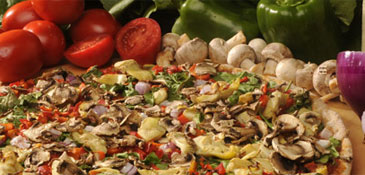 Southeast Engine Delight
"Rev up that veggie goodness"
Spelt crust is the stage for a wonderful vegetarian pizza. This is topped with Savory Asiago Cream, Southwest Seasoning, Mozzarella and Provolone, Fresh Roasted Garlic, Sun-Dried Tomato, Fresh Baby Spinach, and Roasted Golden Potatoes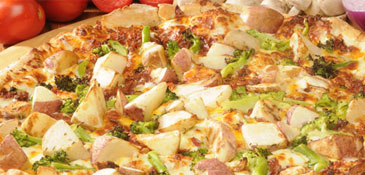 The Loaded Baked Potato Pie
"Foil Wrap Extra"
Our Savory Bechemel Sauce, a Half Pound of Mozzarella and Provolone, Crisp Broccoli Florets, Crunchy Lean Bacon, topped with Crispy Roasted Potatoes and Lots O' Cheddar Cheese!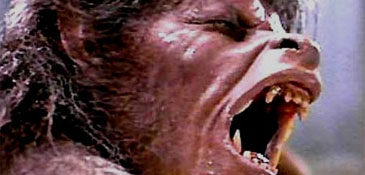 I Was A Teenage Vegan Werewolf
"Beware The Moors!"
Our Famous Hearty Spelt Crust, topped with Freshly Blended Marinara, Fresh Baby Spinach, Hand-diced Red Onion, Plump Marinated Artichoke Hearts, Sweet Roasted Red Peppers and Fresh Sliced Mushrooms. Pizza comes without cheese.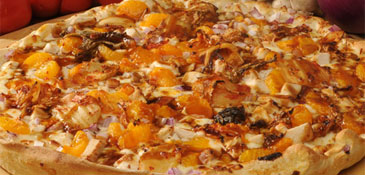 Chicken Yakitori Pizza
"おいしいパイ"
Creamy Asiago-Béchamel Sauce topped with Teriyaki Glazed Chicken, Freshly Diced Red Onion, Garlic-spiced Kimchi, and Sweet Mandarin Oranges complemented by swirls of Traditional Teriyaki Sauce Melted with Our Famous Mozzarella-Provolone Mixture.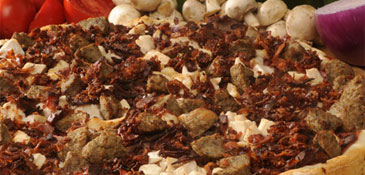 "The Stranglehold" (Nuge)
"We Are All Meat" -Francis Bacon
Our Meat-Lovers Dream atop our Special Marinara Sauce, Half Pound of Mozzarella and Provolone. This includes Real Genoa Salami, Real Golden Roasted Chicken, Lean Bacon, Juicy Ham, Premium Hormel Pepperoni, Thin-Sliced Ribeye Steak and Authentic Italian Meatballs. "The Stranglehold… formerly The Ted Nugent (The Nuge)" Pizza.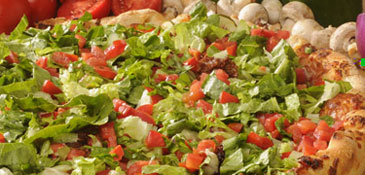 The Famous BLT
"Boy, Yer Gonna Love This"
Our Special Béchamel Sauce topped with a Double Helping of our Lean and Crispy Smoked Bacon and Swirls of our Savory Ranch Dressing then baked before being topped with Fresh Romaine Lettuce and Freshly Diced Roma Tomatoes!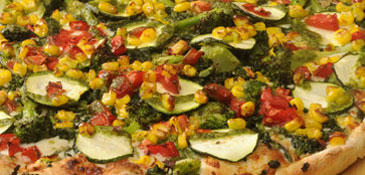 Veggie Rainbow
"The Soul Would Have No Rainbow, Had The Eyes No Tears."
Wonderfully Crunchy Broccoli Florets baked with Melting Provolone and Mozzarella, our Secret Marinara Sauce, Freshly Sliced Zucchini, Sweet Corn, Fresh Diced Roma tomatoes and Fresh Spinach topped with our Famous Basil Pesto!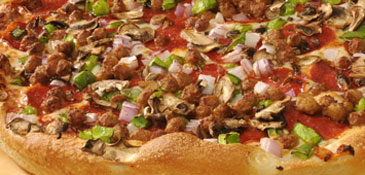 The K-2 (A Huge Classic Supreme)
"The Sensational Sherpa Pie"
On our Awesome Marinara, we pile Premium Hormel Pepperoni, Classic Italian Sausage, Fresh Sliced Button Mushrooms, Crunchy Green Peppers and Freshly Diced Onions.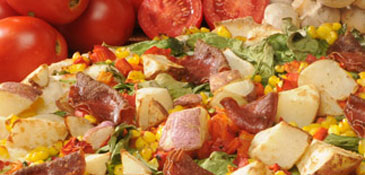 The Yvonne Craig Batgirl! Pizza
"You Guano Love This!"
Our Special Béchamel Sauce topped with Real Genoa Salami, Melting Mozzarella and Provolone, Savory Roasted Red Peppers, Sweet Corn, Fresh Baby Spinach and finished with Roasted Potatoes.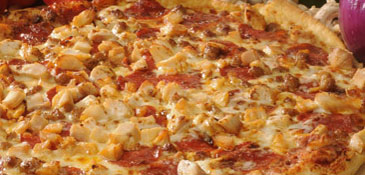 The Avalanche Ranch
"Yeee Ha! Ride 'Em Chow-Boy!"
Our Secret Marinara Sauce with Real Roasted Chicken Breast, Meaty Italian Sausage and Premium Pepperoni topped with our Creamy Ranch Dressing and a Half Pound of Melting Mozzarella and Provolone!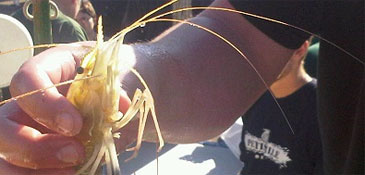 Genovese Shrimp Pizza
"Pizza Del Bamgero Di Genovese"
Our Crispy Thin Crust topped with Fresh Pesto Cream, Meaty Artichoke Hearts, Succulent Icelandic Shrimp, finished with Freshly Diced Sweet Roma Tomatoes.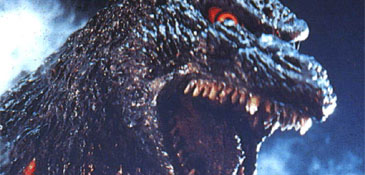 The Godzilla
WINNER! Best Pizza in the U.S.A.
Velvety Blanched Spinach atop our Delicious Marinara Blend with Melting Feta Cheese, Fresh Golden Roasted Chicken and finished with Sweet Sun-dried Tomatoes, Mozzarella and Provolone. And it won Best Pizza in the U.S.A. at the World Pizza Championship in Salsomaggiore, Italy!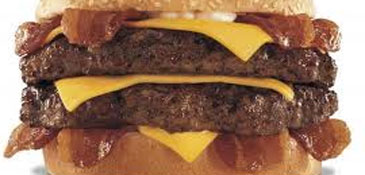 The Bacon Cheeseburger Pie
"Max's Mighty Burger Pie"
A half pound of melting mozzarella and provolone is topped with savory red sauce, meaty ground beef, hand sliced red onion, crispy dill pickles, lean and tasty bacon, melting cheddar then baked and finished with fresh romaine lettuce and hand diced fresh roma tomato.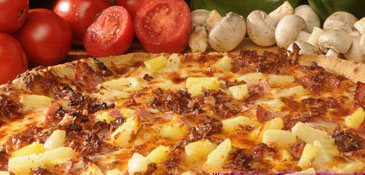 The Mount Kilauea Hawaiian
"Book 'Em Dan-O!"
Our Wonderful Red Sauce made with Our Secret Spice Blend topped with Succulent Ham, Crispy Roasted Bacon then baked with Sweet Hawaiian Pineapple, and Real Shaved Cheddar, Provolone and Mozzarella Cheeses.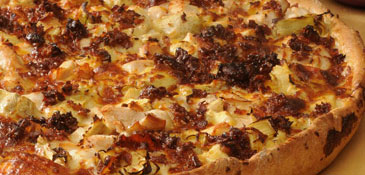 The Chicken Chupacabra
"The Goatsucker"
We start it off with a half pound of fresh melting mozzarella and provolone atop our awesome marinara, followed by golden roasted chicken breast, smothered with crispy bacon, marinated artichoke hearts, and melting cheddar cheese.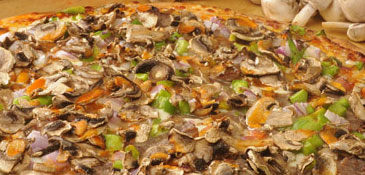 The Cactus Jack Fajita Pizza
"Bang! Bang!"
Our Crunchy Venetian Thin Crust with our Secret Marinara Blend, Thin-Sliced Ribeye Steak, Diced Red Onion, Fresh Green Pepper, Fresh Sliced Mushroom, Spicy "Ninja" Sauce accompanied by Mozzarella, and Provolone.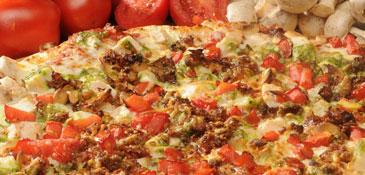 Pesto Chicken
"If This Pizza Could Mow The Lawn, I'd Marry It!"
Freshly Blended Red Sauce, and our Delicious Melting Cheese Blend topped with Real Roasted Chicken, Crispy Bacon, Fresh Roma Tomato, Crunchy Roasted Cashews, and Asiago Cheese and finished with our Famous Basil Pesto.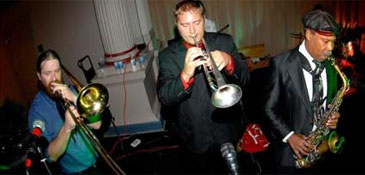 The "Royale" with Cheese
"'Za designed by the Masters of Funk!"
A true "Mega Cheese Pizza"! SEVEN wonderful Cheeses adorn this pizza starting atop our Fabulous Secret-spiced Marinara; Melting Mozzarella, Real Cheddar, Crumbled Feta, Italian-style Gorgonzola, Crunchy Asiago, Finely Grated Parmesan and Fresh Provolone.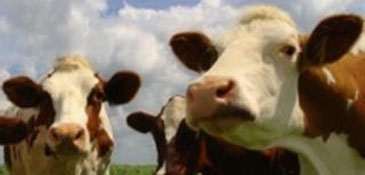 The Great Steak and Potato Pie
"Steak Knife Extra"
Creamy Béchamel Sauce folded with a Half-Pound of Mozzarella and Provolone and loaded with Thin Sliced Ribeye Steak, Diced and Golden Roasted Idaho Potato topped with Crispy and Lean Bacon and Melting Cheddar Cheese. (Make it a "Surf and Turf" with added Ice Shrimp for only $3)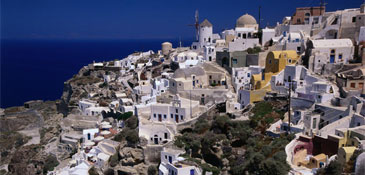 Greek Saganaki
Our Venetian Thin Crust topped with Wonderfully Melted Feta Cream, Golden Roasted Garlic, Authentic Sun-Dried Tomatoes, atop Hand-picked Fresh Baby Spinach. This traditional combination is served with either Golden Roasted Chicken Breast OR a Full Heaping of Icelandic "Ice Shrimp" (Shrimp is Chemical-Free)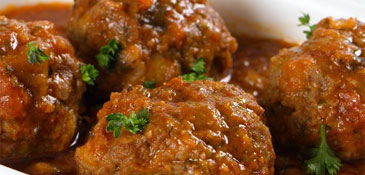 The Italian Meatball
"La Pizza Italiana Della Polpetta"
Authentic Italian Meatballs made with Real Romano Cheese and Hand-picked Italian Herbs floating in a sea of Melting Provolone and Real Milk Mozzarella and Authentic Marinara. This is complimented by Freshly Hand-Cut Red Onion, Crispy Green Pepper and Fresh-Chopped Roma Tomatoes.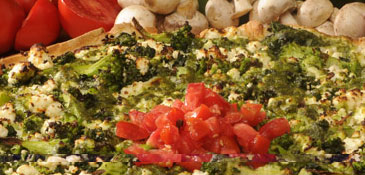 The Soilent Green
"It's People...It's Peeeople!"
A vegetarian favorite! Silky Blanched Spinach baked with Real Crumbled Greek-Style Feta Cheese and Melting Mozzarella. This is all topped with our Specially Blended Basil Pesto and Crispy Green Broccoli Florets, combined with Freshly Hand-diced Roma Tomatoes, Wonderfully Melted Provolone Cheese and our own Hand-blended Tomato Sauce.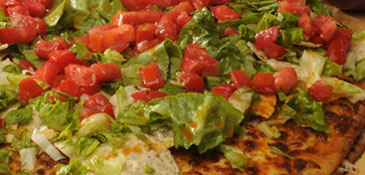 Pancho Villa Taco Pie
"Badges? We Don't Need No Stinking Badges!"
A Triple-Decker Monster! Two layers of Crispy Venetian Thin Crust, with Special Wasabi-laced Ninja-Cream, Meaty Beef, Taco Herbs and Spices,  Juicy Black Olives, Hand-diced Red Onion in Delicious Marinara with two helpings of Cheddar, Mozzarella and Provolone,  topped with Corn Tortillas,  Crunchy Romaine Lettuce and Sweet Roma Tomatoes. (Add Chicken, $2) (4 Slices)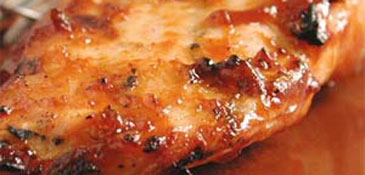 The Original BBQ Chicken
"Finger-Smackin' Good"
Tender and Moist Real Roasted Chicken Breast cooked atop our Specially Blended Marinara, Crispy Lean Bacon and Real Melting Cheddar Cheese. This Wonderful Combination is then finished with swirls of our own Tangy BBQ Sauce!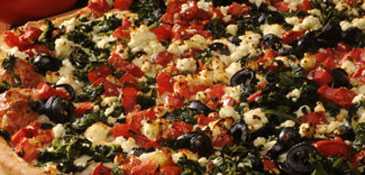 The Mount Olympus Greek Pizza
"Fresh From Zeus's Kitchen"
A half pound of our Real Provolone and Melting Mozzarella atop our Famous Marinara, baked with Fresh and Sweet Roma Tomatoes, Firm and Meaty Black Olives, Premium Blanched Spinach and Real Melting Feta Cheese.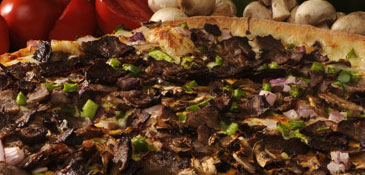 The Mount Philly-more
"Our Awesome Philly Steak Pie"
Savory Béchamel Cream Sauce, melted with a half pound of Mozzarella and Provolone, Awesome Thin-Sliced Ribeye Steak, Hand-cut Red Onion, Crunchy and Sweet Green Pepper, Sliced Fresh Mushrooms and Real Melting Cheddar Cheese.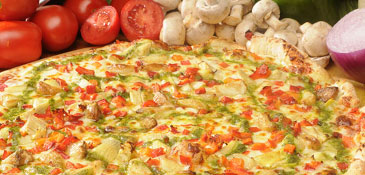 The San Andreas Fault Californian
1st place Veggie at Int. Pizza Expo!
Our Hand-Blended Marinara Sauce piled with a half pound of Fresh Mozzarella and Provolone and sprinkled liberally with Whole Golden Roasted Garlic, Sweet Roasted Red Peppers, Juicy Artichoke Hearts, and swirls of Deliciously Blended Basil Pesto. (A Real Vegetarian Winner)
New York Style Pizza
Our 60 hour cold fermented dough is hand-tossed and served with fresh Italian marinara and aged mozzarella. This giant 20 inch pizza (feeds 4-6 people) is then brick oven baked at 600 degrees for the perfect NYC style floppy foldable slice with a crispy puffy crust.
Only $15.99 plus $2.50 per topping.
Build Your Own Calzones!
Choose your toppings from our extensive list!
We'll wrap your choices in our homemade dough with a 1/4 pound
of our special cheese blend and cook it to perfection!
As a finishing touch, we add a light layer of Garlic Butter and a sprinkle of Parmesan Cheese.
We'll even throw in a side of our secret Marinara Sauce for dipping!
Any Cheese Calzone … $3.99 and only $1.25 per Topping.
Boulder Sandwiches
Try our fabulous "Boulder" sandwiches…definitely NOT a sub! This triple-decker toasted sandwich weighs a pound
and a half and is loaded up with meat, veggies and melted mozzarella!
Gluten Free Products
12″ Gluten Free Pizzas – We provide a Build Your Own Gluten Free pizza that starts with Sauce and Cheese (unless specified differently).
7″ Gluten Free Sub Sandwiches – These are the same toppings we use on our Boulders.
***If you have medium to severe Gluten allergies, do not eat these products.
They are made and cooked in a Pizza Shop that produces Wheat and High Gluten products. At Avalanche, we only use clean gloves, dedicated sealed sauce and cheese and we cook/toast our Gluten Free products on clean foil. We only use clean, sanitized utensils and cutters. (These Gluten Free products are cooked/toasted in an oven with wheat Pizzas/Sandwiches.) While Human error is never completely unavoidable, we have dedicated ourselves to sensitivity to Gluten Free food preparation and service. It's no more, and probably a lot less, risky than eating out in a normal restaurant where the staff isn't trained.
Succulent Salads
We use only fresh, crunchy, nutritional Romaine Lettuce in all of our salads… not that iceberg stuff the corporate chains use!
Best Cheesebread & Breadsticks in the World
An Avalanche of Wings
Desserts
Why such ugly boxes?! For our kids' sake!
Yes, we have some pretty darn ugly boxes compared to those slick corporate pizza places!
But… We decided not to use bleached paper because the chlorine used in the bleaching process releases HIGHLY TOXIC chemicals like DIOXIN and FURANS into our rivers, streams and oceans! The world is a beautiful place, lets keep it that way for our children! For more info head to "Reach for Unbleached"
www.rfu.org
.
Our Pizza | Toppings | Signature Pizzas | | New York Style | Calzones | Sandwiches | Gluten Free | Salads | Breadsticks | Wings | Desserts